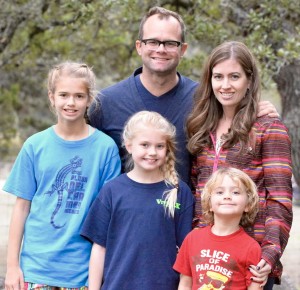 I grew up as a missionary kid in an Indian village in the Sierra Madre Mountains of Mexico. I was graciously saved at age of 6 and was blessed to be raised by parents who were strictly adherent graciously living out the gospel. My family moved to San Antonio when I was 14 and I attended high school in San Antonio (where I met my future wife Gabrielle).
I attended Texas A&M (and graduated in 4 years) where Daniel was my college roommate (who took way more than 4 years to finish.) I went on to graduate studies in Dallas for four years and married my wife while in school there. We then moved to Durham, NC for 4 more years of training. All these travels have allowed us to worship at a Presbyterian church, 2 Bible churches, and Baptist church; I have been blessed by worshiping in all these settings. These brothers and sisters of different traditions of worship have been instrumental in my growth as a Christian.
Gabrielle and I have 3 children who are currently range from kindergarten to Junior High. We love biking as a family and if we invite you biking, we likely have enough bikes to lend you some. Much of our family's time is spent thinking about how to live out the gospel in the setting of our neighborhood and school relationships. We don't do this perfectly but are constantly trying to grow in this area.